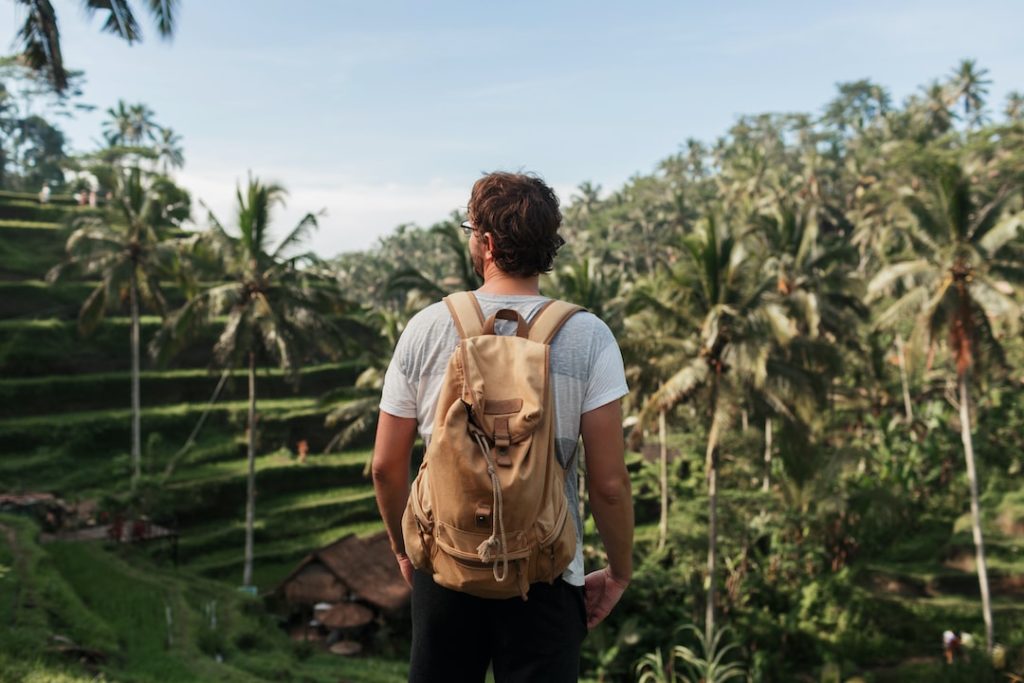 I'm not exaggerating when I say that these are 20 of the best travel bloggers around. Every one of them is excellent in its own way. They've been featured on TV shows, radio shows, big blogs like CNN and Huffington Post, newspapers, magazines. They have written multiple books on their travels. They're one-of-a-kind, and I couldn't be more honored to share them with you!
1) Peter Greenberg
He's been called "the Walter Cronkite of Travel" by none other than Conde Nast Traveller magazine. That says it all right there. Peter started his career anchoring NBC News' Weekend Today in New York City at age 25 and then moved into a weekend anchor job at NBC News in Washington DC. These days he's the Travel Editor of CBS News and a frequent guest host on CBS Sunday Morning and CBS This Morning.
What I admire most about Peter is that he has an incredible work ethic. He works nonstop yet remains very approachable for his fans and even his critics (like me). You can tell that he loves what he does because he lives it every day. That's the quality all travel writers should have!
2) Steve Kamb
Believe it or not, Steve used to be obese at one point in life (he weighed over 300 pounds). However, he turned things around via exercise and nutrition, slimming down to 190 pounds, which helped him pursue his life's dream of traveling the world.
Steve is easily one of my favorite travelers because he does things differently than everyone else. He was the first person to travel through all 193 countries in the world using only miles and points! The guy has logged over 1 million air miles since 2002, logging an average of 250,000 per year for nine years straight. Steve is also a multi-millionaire author whose book on points & miles is the best-selling finance title that Penguin Publishing ever put out! Oh yeah – and he also happens to be one of just three people who've summited Mount Kilimanjaro in shorts (that alone makes him cool).
3) Rick Steves
He's been called "the Paul Revere of European travel." Rick is a public broadcasting host who lives in Edmonds, Washington. Over the last 35 years, he's hosted and produced more than 100 travel shows for PBS and Public Radio International, authored several bestselling books about European travel as well as a New York Times Bestseller, and published his op-ed column in major newspapers across America.
Rick has been an inspiration to me since I was 12-years old when I first started watching his TV show, which my family would watch every Sunday on our VCR before church. As you might know from reading this blog, Europe is one of my favorite places to visit (I've lived there three times), so Rick's work means a lot to me personally, especially his passion for helping to protect Europe's cultural heritage. In the spirit of that, Rick has helped pass more than 1,000 resolutions in local government bodies urging U.S. Congress and President Obama to take action preserving European heritage sites in Iraq and Syria under siege by ISIS as well as proposed cuts to funding for the U.S. State Department's programs promoting similar causes around the world.
4) Nomadic Matt
Ever since my first trip to Southeast Asia, I've been fascinated by it… especially Thailand! So when I discovered Nomadic Matt a few years ago, he became one of my new favorite bloggers, who is also active on Twitter. He's another one who breaks the mold of travel blogging because he doesn't write about visiting tourist traps or luxury hotels. Instead, he writes about making money to fund long-term travel and simple living abroad while earning incredible rewards with credit card bonuses and miles & points. He's been blogging since 2008 and runs a community website called The Points Guy, where he acts as the Chief Loyalty Officer (or CLO, get it?).
The best part about Matt is that he doesn't follow anyone else's rules on how to do things! Instead, he created his own game plan:
Visit low-cost countries where your currency goes further.
Maximize credit card rewards using signup bonuses, manufactured spending techniques, and other hacks (like this one ).
Keep overhead costs down by staying in budget hotel rooms or even couch surfing in some cases.
Of course, there are ways to do all of that travel hacking legally, but you have to know how to navigate the system, and I don't think there's anyone better in the game than Matt.
5) Nomadic Chick
Jen started traveling full-time after her divorce a few years ago. She writes about her experiences and gives tons of great advice on credit cards, travels rewards, and maintaining a healthy life while living out of hotels. I really like Jen because she provides more than just vague ideas on where to go – she shares exact addresses, contact info, and even tips on getting around, given the location. Another unique aspect of her site is that it includes video content that has been produced by some wonderful videographers she knows who are located all over the world.
6) Hitchhiker Heaven
Now, this is cool! This isn't your typical travel blog: the idea came about after traveling to more than 80 countries in five years, hitchhiking, and working on cargo ships. The concept of the site is to provide encouragement for those looking to do something similar, as well as information about how it's possible.
Not only does Sean provide tons of great advice on how to sign up for a sailing internship, but he also teaches you everything you need to know to obtain one (e.g., how much money you'll need and where to get it; what happens at sea and what life is like living with other people from different countries).
7) Frugal Travel Guy
If you're looking for inspiration to travel around the world on next to nothing, then look no further than Frugal Travel Guy. He and his wife (who has her own travel blog called Money We Have ) traveled to 10 countries on $10/day last year. Oh, and they had an 8-month-old baby with them during their trip. Definitely one of my favorite blogs out there!
8) Vagabondish
This is one of those blogs that will just make you want to pack up and travel the world right away! A lot of it has to do with Rich's writing style (which happens to be very similar to mine #coincidence? ). Vagabondish isn't updated as often as other sites. Still, his posts are always worth a read. You can also follow him on Twitter @Vagabondish. So go ahead, give it a try! I dare you not to start dreaming about your next adventure. I know I did after reading Rich's post 5 Travel Lessons From Solo Backpacking Across South America!
9) Nomadic Two Shoes
This is another one of those blogs that make you want to pack up and travel the world. But, of course, a lot of it has to do with the guy writing it, Joe (who's pretty much my age which means he was born in the 80s…okay, not so similar ). I've read a few posts about his trip through Central America, and they're great! I like them because he talks about things like local food, some words that may be different from what you're used to hearing in English, and just how crazy everything can get with a baby on the road. Plus, his photos are gorgeous!
10) Wandering Earl
If you haven't picked up on this by now, I'm kind of obsessed with solo travel as a way to meet people (you can read more about that here ). This is another one of those sites that prove you don't need friends and family with you all the time to have a fantastic trip. However, my favorite post on the site isn't about solo travel but about something called "Trolltagging," which is when people create homemade license plates at places like Youth Hostels or gypsy campsites! Definitely check out his blog if you're looking for inspiration to go find some new friends and make your next trip extra special!
11) Solo Traveler
If solo travel interests you, then definitely check this blog out. Although it's mainly focused on long-term travel, there are many great posts on everything from packing to why you should do it.
12) Nomadic Matt
If there's one thing that sets this blog apart from others, it's the amount of research he puts into each post. His posts are undeniably better because of it, and I'm a big fan. He also answers a lot of commenters' questions in his posts which is always nice! (#fixbloggercommentsproblems )
13) The Broke Backpacker
You can't go wrong with anything written by these guys (there's actually FOUR other writers on the site, three males and one female ). Their advice is excellent, and they're an incredible group of people who know their stuff! They even made my list a couple years ago as well. Definitely give this one a read and follow them on Twitter @BrokeBackpacker.
14) Go Backpacking
This is my favorite blog for tips about traveling in the developing world (although he does have many posts about other stuff too ). I also like that it's not only by guys! Julia has been to South America twice now and loves every minute of it. Her photography is gorgeous as well, so definitely check out her photo albums!
15) One Step Further
These guys have made this list before as well, and although I've never been to the countries they travel to, their site is still one of my favorites! They're great at making sure you don't forget something on your packing list or even what you need to start thinking about months in advance. I also like that they do reviews for all kinds of gear so you can be confident that whatever it is, it's going to work when you actually use it. Follow them on Facebook here.
16) Traveling Two Guys
If there's one thing I've definitely learned over time, it's that people are just ordinary (and most people want to help if they can). Simply put: this is an excellent blog for people who are nervous about traveling alone because they don't like to meet new people. They're the whole package – down to earth, funny but also super in-the-know and knowledgeable! You can read my review of their site here.
17) Traveling Raven
When you've been living in one place for long enough, it's easy to get caught up on what's going on around you and forget why you left that place in the first place…to travel! If that sounds like something you need to hear, then definitely check out this blog! She has lots of posts from everywhere she's ever gone, and although I've never even been close to some of them, I'm always eager to see her write about her time there.
18) Traveling With A Punk
This is an excellent blog for the budget traveler. While he does have lots of content about solo travel, he also has a lot of content geared towards couples or those traveling in groups! If you're a fan of video blogging, then definitely check out his YouTube channel. Also, follow him on Twitter @Travelling_Punk.
19) The Blonde Gypsy
She knows all things related to backpacking, but she shares them from a different perspective. She writes about all kinds of other interesting topics too. Definitely give her a read! (I added this one because I really liked the last blog post I read by her – it was sincere and raw). You can follow her on Facebook or Twitter.
20) Nomad is Beautiful
This blog is written by a really awesome girl who happens to be a natural redhead! She's also got a remarkable Instagram account – so if you're not following her there yet, you definitely should! Travelling solo? You might find some valuable info here as well. Check out their About Page for more information.
You can follow them on Twitter @Nomadisbeauty.
And there you have it! 20 travel blogs that I think are totally worth your time. What travel blogs do you think should have made the list?